IRRADIATION INDICATORS

Charter Medical has a partnership with RadTag Technologies to distribute the "RadTag®" blood irradiation indicator in the United States.
RadTag®, is an innovative blood irradiation indicator. It indicates if the product received the minimum dose of 15 Gy or exceeded the maximum allowable dose of 50 Gy.
Simply confirm the sensitive blue dot is the same as or darker than the 15 Gy color and if necessary, not darker than the 50 Gy color. It's that simple.
The RadTag® Irradiation Indicator is attached to a blood bag prior to the bag's placement in an irradiator. The sensitive portion of the indicator is white initially and changes to a blue color upon exposure to ionizing radiation; the shade of blue is an approximation of the amount of radiation dose delivered. The color change is permanent and immediate and does not require any further processing or development. The amount of color change has been optimized to give a clear indication that the blood bag has been processed at levels of irradiation currently used in the industry. A typical processing unit will use 25 Gy (2500 rads) as a specified dose delivered to the central portion of the irradiation container, and 15 Gy (1500 rads) is the minimum dose at any other point.
Features and Benefits
Utilizes a unique color change material to verify irradiation is adequate
Quick and Easy to Interpret
Semi-quantitative indicator of radiation dose
Both Gamma and X-ray versions available
Assures compliance with AABB and FDA guidelines for min/max dose limits
Lot Number and Expiration Date on label
Bar Code Readable
Less Rigid than other labels
Registered FDA and HPFB
Manufactured to ISO 9000 guidelines
Utilized in USA and Canadian markets for over 5 years
Images
RTG15

RTX15

Sample Blood Bag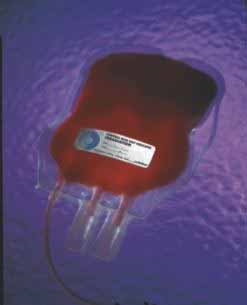 Brochures & Materials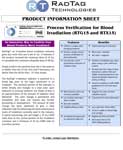 RadTag Product Information Sheet
Catalog Numbers
| Catalog # | Description | Case Qty |
| --- | --- | --- |
| RTG15 | RadTag® 15/50 Gy Min-Max Gamma | 200 |
| RTX15 | RadTag® 15/50 Gy Min-Max X-Ray | 200 |