AQUAGUARD

AquaGuard® is a disposable, impermeable moisture barrier that allows the clinician or patient to cover catheter sites, surgical incisions or dressings, to keep them dry when showering.
Patients
Patients love AquaGuard® because it enables them to shower normally, restoring a feeling of comfort, normalcy and independence to a hospital stay or daily life at home. AquaGuard® is easy to use, with adhesive that keeps moisture out but is gentle on delicate skin. AquaGuard® also helps prevent the discomfort of unnecessary dressing and IV changes, which makes everyone happy.
Clinicians
"AquaGuard® means no more leaky plastic bags or wet dressings!" Nurses know that plastic bags and tape fail at least 30% of the time, leading to wasted time and unnecessary dressing changes. Leading hospitals have demonstrated that AquaGuard® reliably protects vulnerable sites from moisture and contamination while showering, which saves both valuable nursing time and costly supplies. AquaGuard® also prevents the risk of cross contamination from sharing plastic wrap and tape supplies among multiple patients.
Administrators
AquaGuard® reduces supply costs, nursing time and infection risk while improving patient independence and satisfaction, by reliably protecting patients' wound and IV sites while showering.
Leading health care providers know that using FDA registered AquaGuard represents a best practice in patient care, which is why AquaGuard® is specified by name in leading hospitals' patient protocols. AquaGuard® is the only moisture barrier product manufactured in the USA at an FDA registered facility. AquaGuard® is certified to ISO 13485:2003 standards and adheres to Good Manufacturing Practices (GMP) to ensure product safety and quality.
Images
Click on the thumbnail to enlarge.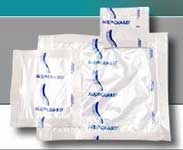 Brochures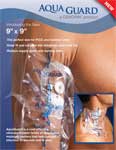 AquaGuard 9x9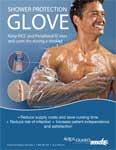 AquaGuard Glove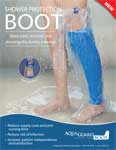 AquaGuard Boot
Catalog Numbers
Catalog #
Description
Case Qty
Image
50004-CSE
AquaGuard Moisture Barrier Sheet 4 x 4", 14 packages of 7 sheets
98
50005-CSE
AquaGuard Moisture Barrier Sheet 5 x 5", 14 packages of 7 sheets
98
50010-CSE
AquaGuard Moisture Barrier Sheet 7 x 7", 14 packages of 7 sheets
98
50011-CSE
AquaGuard Moisture Barrier Sheet 10 x 12", 14 packages of 7 sheets
98
50012-CSE
AquaGuard Moisture Barrier Sheet 12 x 14", 14 packages of 7 sheets
98
50013-CSE
AquaGuard Moisture Barrier Sheet 12 x 24", 14 packages of 7 sheets
98
50015-CSE
AquaGuard Moisture Barrier Sheet 9 x 9", 14 packages of 7 sheets
98
50022-CSE
AquaGuard Moisture Barrier Sheet 7 x 22", 14 packages of 7 sheets
98
50016-RBX
AquaGuard Glove, Moisture Barrier 34", 25 packages w/1 water-seal band & 3 gloves
25