ET Tube Securement

NEO-prep™ Skin Barriers and NEO-fit™ are must-have products for your CPAP and endotracheal tube patients.
The NEO-prep™ protects tender tissues during this critical therapy. They are precut and nonsterile.
The NEO-fit™ tube grip provides quick and secure stabilization and allows rapid readjustment of the endotracheal tube.
This unique design eliminates the use of tape on the tube and minimizes the need for tape on the patient. Bifurcated flex pads provide secure facial contact.
Features & Benefits of the NEO-fit™
Fits 2.5-mm to 4.0-mm tubes. Not for use with 2.0-mm or smaller tubes.
Product is packaged nonsterile, 20 per box, 80 per case (4 boxes).
Grip includes: 1 plastic tube grip with adjustable hook-and-loop strap and adhesive foam foot pads & 2 foam "lollypop" securing tapes (optional use)
Images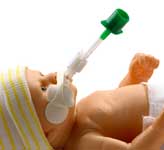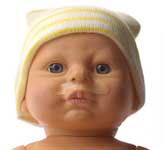 Brochures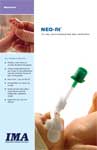 Neo-Fit Endotracheal Tube Stabilization
Catalog Numbers
| Catalog # | Description | Box Qty | Case Qty |
| --- | --- | --- | --- |
| 42-2540 | NEO-fit™ Neonatal Endotracheal Tube Grip Set | N/A | 20 |
| 44-8000 | Precut hypoallergenic skin barrier, nonsterile, small | 10 | 30 |
| 44-8001 | Precut hypoallergenic skin barrier, nonsterile, large | 10 | 30 |
Back to Top