SPECULUMS and Light Sources

The new KleenSpec® Disposable Vaginal Speculum with the innovative Cordless Ullumination System offers greater convieniance for you, added comfort for your patients.
The Welch Allyn KleenSpec® Vaginal Specula and Illumination System has been totally redesigned to provide the key features you've come to expect - plus a number of important and exciting enhancements.
With so many new time-saving features and benefits, the new KleenSpec® Disposable Vaginal Specula and Cordless Illumination System are a must for every office and hospital.
Features and Benefits of the 590 Series KleenSpec®
Maneuverability - new wider handle provides improved ergonomics, better balance, and it is much easier to manipulate during exams.
Superior Illumination - newly designed light pipe provides a homogeneous spot and eliminates glare back - all of the light is projected forward right where you need it.
Confortable - smooth, molded acrylic will not pinch or bind tissue for greater patient comfort during the exam.
Disposable - Welch Allyn's single-use speculum eliminates the time and expense of reprocessing and reduces the chance of cross-contamination.
Safe and Dependable - stronger grip and the yoke is more flexible than low-cost substitutes.
Compatibility - the new 590 Series KleenSpec® Vaginal Speculum is compatible with the current illumination system (#78810) as well as the new illumination system (#79910).
Features and Benefits of 790 Series KleenSpec®
Superior Visualization - advanced LED light source provides better visualization of the exam area by supplying brighter, whiter light, right where it is needed.
Cordless and Rechargeable - no cord to get in the way or break during procedures, continuous on time of 80 minutes, recharge time of six hours, lithium ion battery technology. The new cordless illumination system easily fits right into the new KleenSpec® Disposable Vaginal Speculum.
Automatic On/Off - no more hassle with turning the unit on and off. When the new KleenSpec® Illumination System is inserted into the 590 Vaginal Speculum it is automatically illuminated, and once it is removed, the light goes off.
Versatility - use your new Illumination System as an all-purpose light source as well as with the KleenSpec® Disposable Vaginal Speculum.
Convenient - no cords to clean, much less heat than traditional lamps
Images
Click on the thumbnail to enlarge.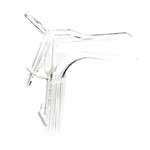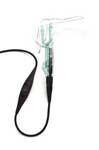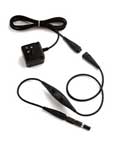 Brochures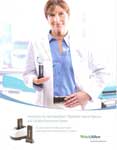 Disposable Vaginal Specula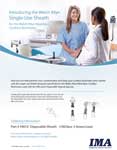 KleenSpec Cordless Illuminator
Product Numbers
| Catalog # | Description | Box Qty | Case Qty |
| --- | --- | --- | --- |
| 59000 | KleenSpec® 590 Series Premium Disposable Vaginal Specula, Small | 24 | 96 |
| 59001 | KleenSpec® 590 Series Premium Disposable Vaginal Specula, Medium | 24 | 96 |
| 59004 | KleenSpec® 590 Series Premium Disposable Vaginal Specula, Large | 19 | 76 |
| 59005 | KleenSpec® 590 Series Premium Disposable Vaginal Specula with Smoke Tube, Small | 12 | 48 |
| 59006 | KleenSpec® 590 Series Premium Disposable Vaginal Specula with Smoke Tube, Medium | 12 | 48 |
| 79910 | Complete KleenSpec® 590 Series Premium Disposable Vaginal Specula Cordless Illuminator with Charger Station | 0 | 1 |
| 79920 | Complete KleenSpec® Disposable Vaginal Specula Cordless Illuminator with Charging Station and Auxiliary Power Cord | 0 | 1 |
| 79900 | KleenSpec® Disposable Vaginal Specula Cordless Illuminator | 0 | 1 |
| 73910 | Charging Station for Cordless Illuminator | 0 | 1 |
| 75910 | Auxiliary Power Cord Accessory for Cordless Illuminator | 0 | 1 |
| 58000S | KleenSpec® 580 Series Premium Disposable Vaginal Specula with Sheath, Small | 20 | 80 |
| 58001S | KleenSpec® 580 Series Premium Disposable Vaginal Specula with Sheath, Medium | 20 | 80 |
| 58004S | KleenSpec® 580 Series Premium Disposable Vaginal Specula with Sheath, Large | 15 | 60 |
| 58600 | KleenSpec® 586 Series Economy Disposable Vaginal Specula, Small | 25 | 100 |
| 58601 | KleenSpec® 586 Series Economy Disposable Vaginal Specula, Medium | 25 | 100 |
| 78600 | Expendable Illuminator - Can be sterilized 50 times before disposal | 6 | 12 |
| 78810 | KleenSpec® Illumination System - 4.7 Halogen Light Handle eiht on/off switch and transformer. | 0 | 1 |
| 78800 | Permanent 4.7 V Halogen Light Handle with On/Off switch | 0 | 1 |
| 73410 | Transformer with 5' Cord - 110-130 V, 50 Hz. UL Listed, CSA Certified | 0 | 1 |
| 08800-U | 4.6 V to 4.7 V Halogen Replacement Lamp for 78810 Illumination System | 0 | 1 |
| 07800-U | 6 V Halogen Replacement Lamp for 78010 Illumination System | 0 | 1 |
| 78820 | KleenSpec® Illumination Storage System | 0 | 1 |
| 58014 | KleenSpec® Vaginal Speculum Dispensor | 0 | 1 |